Rule with an Iron Fish By Kestrel Games
Rule with an Iron Fish By Kestrel Games
Rule with an Iron Fish
Genre:Adventure Developer:Kestrel Games Limited
This is a sea and fishing based gameplay you will find hours of the entertainment with feeling of relaxing, and idyllic fishing game is perfect for your time pass. The game is not just about go out for fishing but there is a concept which will keep still more elaborate setup immersed in the game this keeps encouraging people to come on to the game every-time.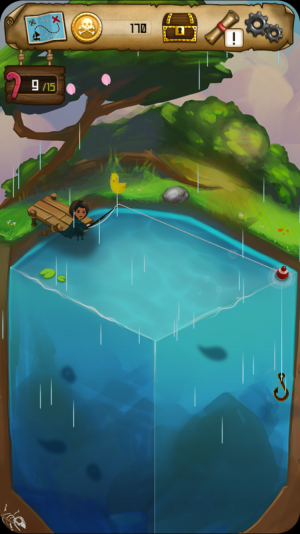 This game will provide you with quests which is very challenging one you gonna love it and don't feel tedious. Game actually rewards with substantial upgrades and new area to explore in the hub zone and some time you feel repetitive to for fishing hole every 30 minutes and work for getting new equipment but it constantly maintain enjoyable controls are very simple and responsive and very easy to put rod into specific area of the water. Which is useful for splasing rare fish that pop out certainly or reconfigure your way to another zone with few quick taps. You can do fishing unlimited movements there is no exceptional and the inclusion is appreciated.  Things get better once you start getting back  NPCs  to island with short combat sequence like fishing competitions where you can sabotage a competitor's line. which in turn you get more benefit. The upgrading system is better you can earn better fishing rod where you can catch bigger fish this method is easily distributed and well crafted.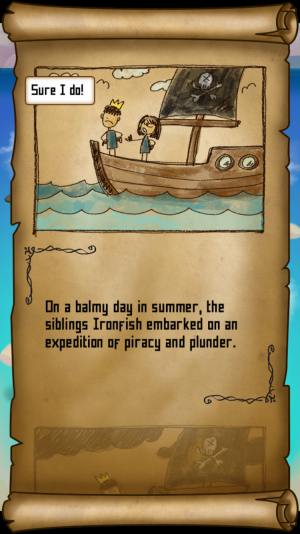 Its very interesting to pick up new ships to explore and discover a unique item in a hunt of treasure chest
Speaking about visual art style is adorable which looks complete with each character models that actually stand out with eachother with beautiful landscapes. There is no IAP in the game also no power-ups to buy during one hour of gameplay you don't feels any difference but Mid-games are very slow to crawl making to catch fish long time with sprinkles of progression.
Once I reached a goal and unlocked three more interesting quests and saw the aquarium admiring my catches that almost faded away. yes rule with an rule in an Iron Fish also just about everything right. After I finished my first quest to decided to move next level a game that costs few bucks can be played anywhere that really a nice choice.