Return of the Zombie King- Endless runner zombie king,Help him to recover  his humanity and bony figure into the King who was once .
Return of the Zombie King
Genre:Action & Adventureous Developer:Chris Zukowski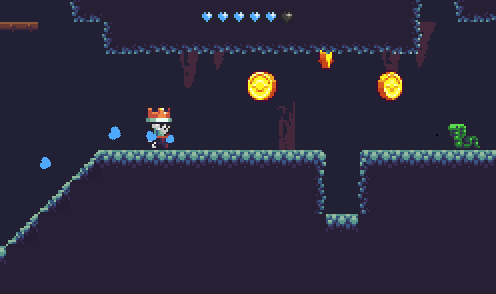 Game Return of the Zombie King developed by Chris Zukowski you can watch so many zombies everywhere  you look, from tv to the zombie series to comic books. I know that zombies have been a sub-genre in the horror category for a long time, but it just seems to have become quite more popular after "The Walking Dead" hit the airwaves. We just don't seem to get enough of those cute, awkward brain-eaters. For me, I definitely got into the zombie thing much more after I started to play "The Walking Dead,". And I doubt I'll get into every single zombie apocalypse themed show, game, or movie. But hey, I know how the gist of them go by now anyway.
The way the game is built is also a perfectly fit for mobile. I mean touch interface is incredibly impressive, but it doesn't really need to be anything more. And we love 8-bit pixelated game here at Mobilestartupz so finding out about the auto-runner platformer Zombie King by developer Chris Zukowski has made me really happy. Some of his titles are Wizard Golf RPG, Drill Planet. Here Zombie king acts really weird without eating people, start off as a deceased royal who exiled from your kingdom and having being drowned, Coming back from the dead, though, means he isn't going to be in tip-top shape, runner with a zombie theme, The entire system of jumping thing so complex that it allows for some great, open levels, and although the idea of wakeing back from the dead like zombie is silly, actually works in its favor in combination with that openness.
The game focuses on a restoring your humanity rather than going on a zombie rampage by collecting coins throughout the level. And continuous his upgrade on each run making effort s to regain his former vigorous. By collecting coins along the level and gathering these coins you can use them in later levels to level up your energy a little at a time and  buy more energy  for the next run so you can get a bit further. Also enjoy buying abilities like double jump, spike-walking-boots, boots, armour which can again use these to get further benefit for next run. there're plenty of extra abilities that could help you on your journey. The game seems lots of fun and but it's also incredibly charming in a way that makes it near impossible to put down. And There's a lot of potential here to build on this premise and keep rolling with it.
In terms of visuals, Zombie King is beautiful and pays a nice homage to the retro pixelated games that I grew up with. Even though Zombie King is done up entirely in hand-crafted pixel art, there's still a lot of detail to be found in the core of game, and the colors range from nice and vivid brights to darker, Animations are superb and smooth. Zombie King is  delightful and quirky serves as a nice tribute to classics. While this takes away some of the complexity of the game, and there are moments where it feels like an item could be of use elsewhere, but no. All the solutions can be had within each character's own set of levels. This means that if you get stuck with a character, you know there's always something you can do.
Overall game is a complete package , I really like the game here. The puzzles are fetch quest type stuff, but their uses are just oblique enough that they will make you feel stupid for not figuring it out sooner. And great concept each run to gradually upgrade your bony figure into the King who was once. Lots of challenges to accept over 100 levels across 4 different environments. There are plenty of enemies to tackle with upgrades. But what it does brilliantly is condense simple game into one ridiculous title, oozing with charm and with plenty of challenge to keep you pushing yourself.